czech glass and glass bead necklace. About 17 inches long. $20
rose quartz and glass bead bracelet. 7.5 inches long. $15
this is a little girls bracelets. About 5inches long. Glass beads and turquois. $10
another little girl bracelet, 5.5 inches long. glass beads $8
glass beads necklace with scarab (beetle) pendant. There is a brown mark on the pendant but that was there when I bought it. I thought it was dirt or sap but it doesn't scrape off or anything, I wiped it over and cleaned it off, it is just apart of the piece. This is a longer necklace at around 20 inches. $30
Thanks!
Here are a few bits of beading I made in the last day or two.
Woolies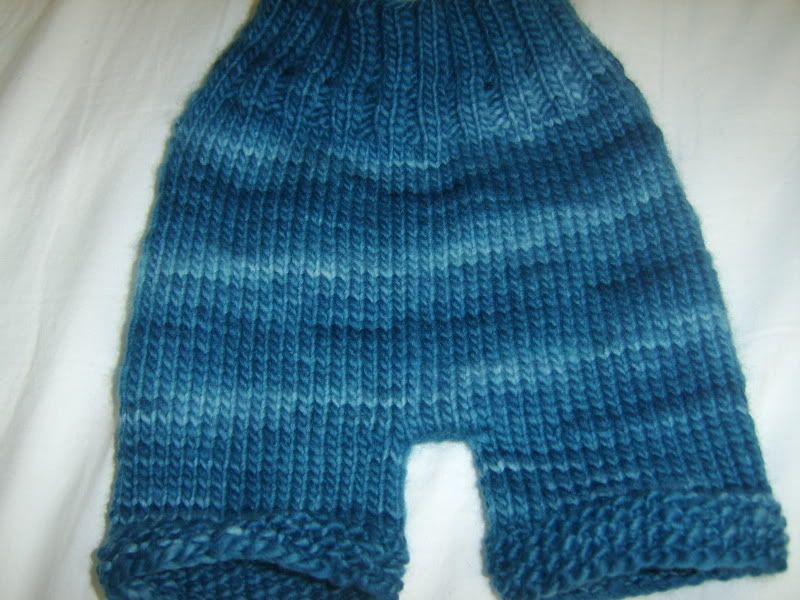 newborn wool
waist 12-17in
rise 15in
inseam 2.5in
These are made from Malabrigo merino wool. These are lovely, luxurious shorties that your newborn would love to have on their buns! I have an I-cord drawstring, not pictured, and they come washed and treated with lanolin. These are knitted lovely and with smaller needles so that the knit is tight, but not felted feeling. $25 PPD
waist 14-20
rise 17.5-18
inseam 3.5
She-Ra!!! Princess of Power! Sorry. As I was knitting these I was like these remind me something. Then it hit me as I was looking at a friends myspace and she had a She-Ra layout. The orange and yellow matched her layout! All they need is a little She-Ra t shirt. These are also knit with Malabrigo. The pooling and colouring is gorgeous! It looks like a creamsicle. So soft and ice creamy, perfect for summer. $25PPD
I also have a pair of orange peacefleece shorties that are a bit bigger than these. I have to weave in the ends and snap a pic. i can do it tonight. I want $30 for those because of the yarn I used and they are bigger. The peacefleece has bloomed so lovely, I washed them about 3 times after knitting them so that when they go out they are nice and fluffy.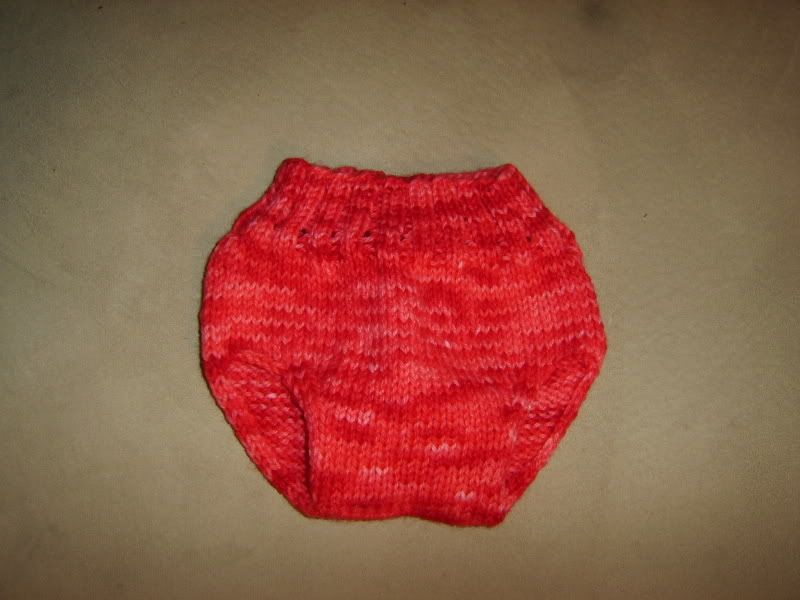 newborn soaker
waist 12-16
rise 14-15
I can knit any type of legs you want on them, a ribbed cuff or a ruffle. These are reduced at $10PPD.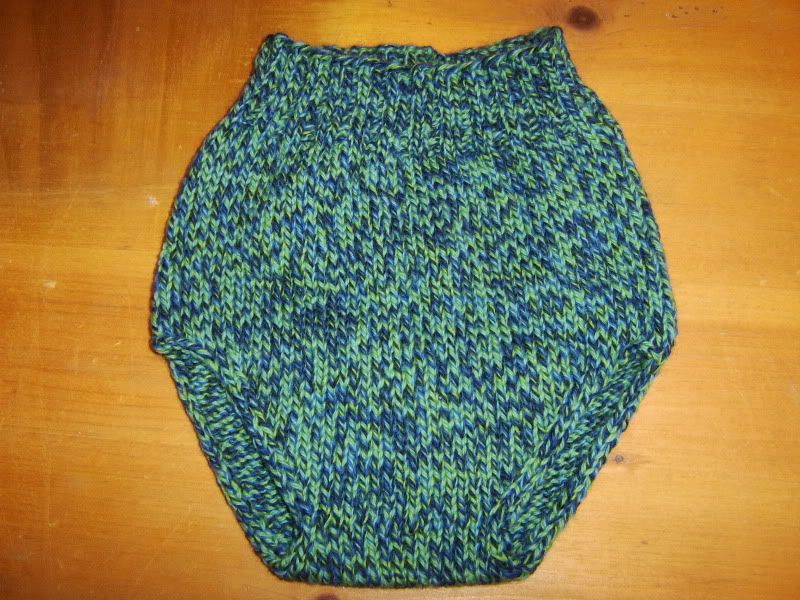 medium soaker
waist 14-20
rise 17.5-18
I can also knit any type of cuff on it you want. This is reduced to $12 PPD
SOLD
medium shorties
waist 14-20
rise 16.5-17
inseam 4
These are handdyed by me using koolaid which does not run at all! I am reducing these to $20 PPD
SOLD!
Recently I have decided to start selling some beaded jewerly on my store. I have started to bead recently and I really like it. We haven't gotten into expensive stones but we have some cute things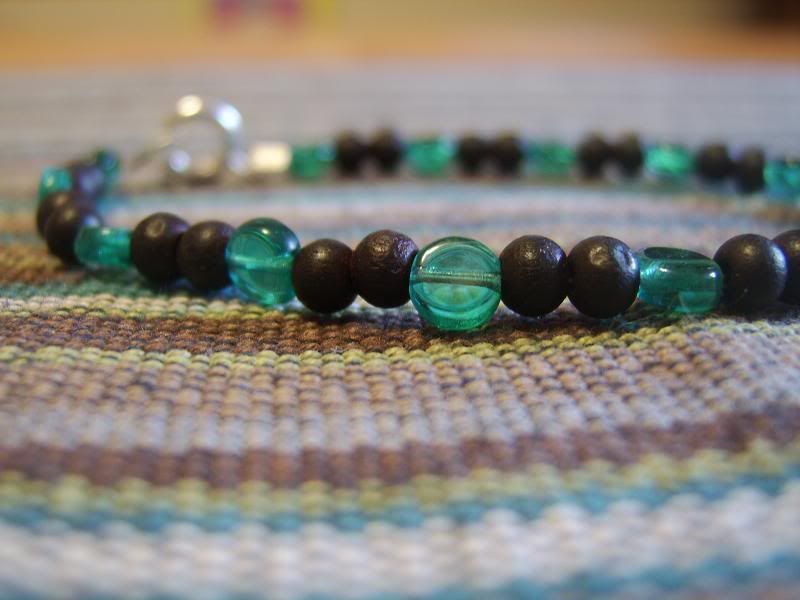 this is a rosewood and czech glass bead bracelet. Silver plated spring ring clasp. $10PPD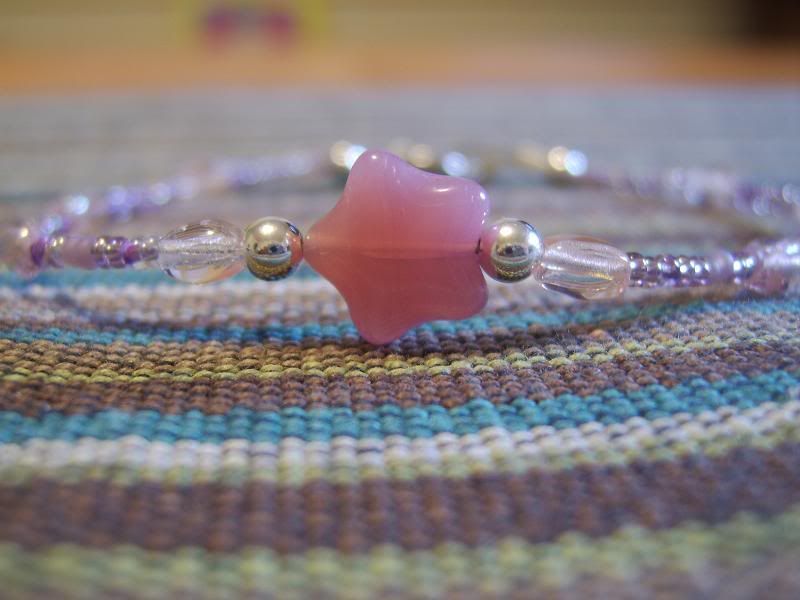 this is a little glass bead bracelet. Purple and pink glass beads with bigger clear glass and a pretty star bead in the middle. This is about 7.5 inches around and I would like $10 PPD for it.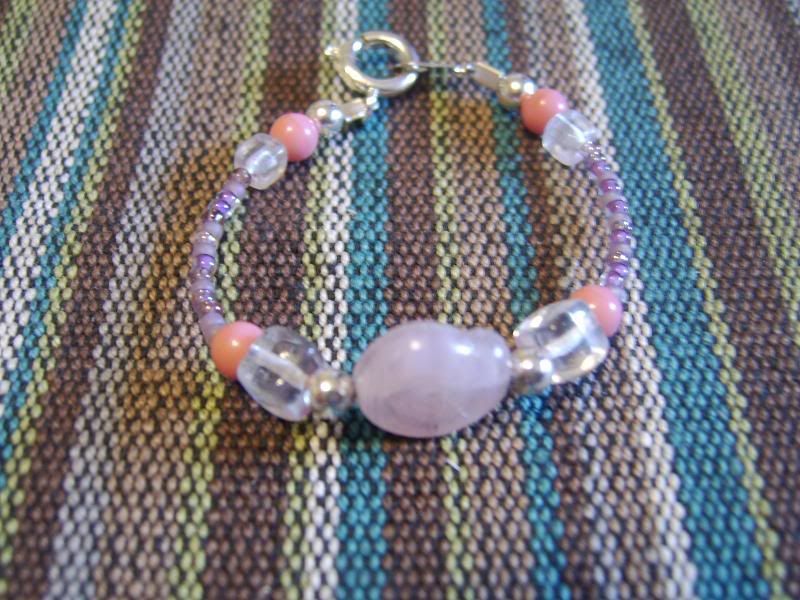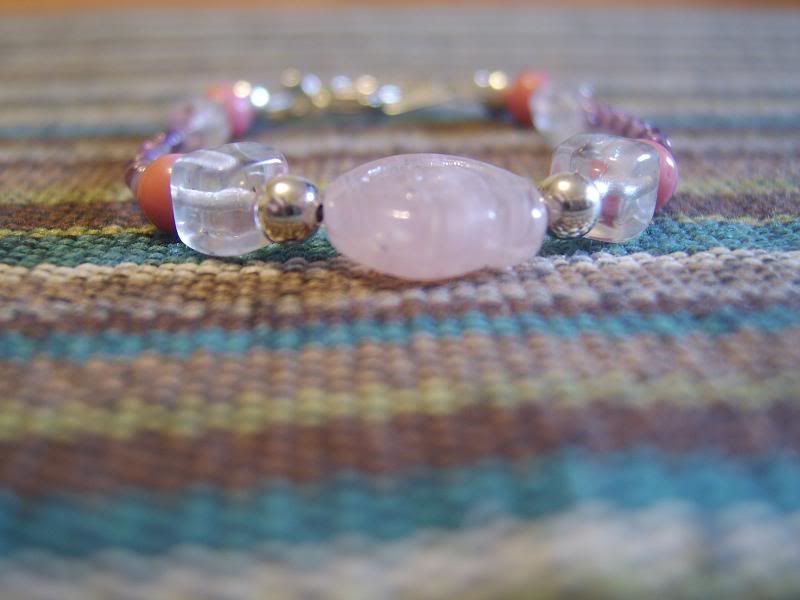 this is a little girls bracelet. Glass beads. It measures 5inches around and perfect for a toddler. $8PPD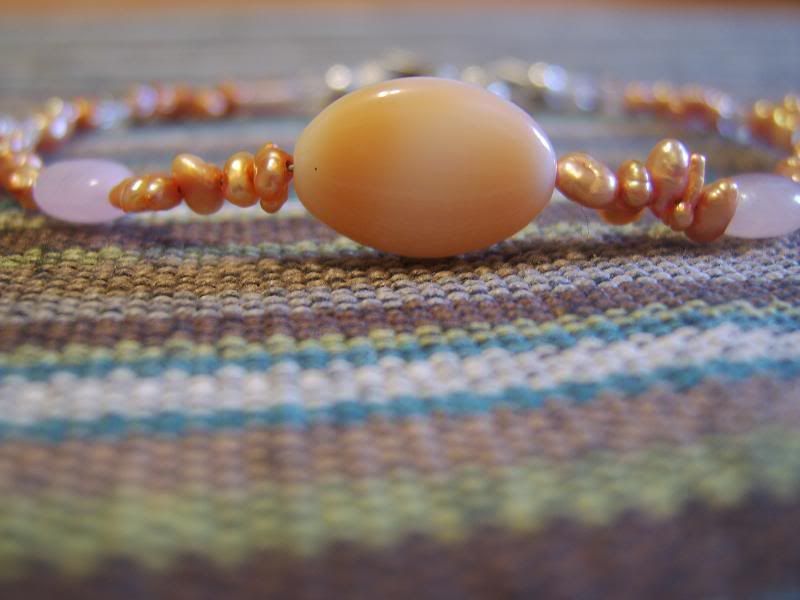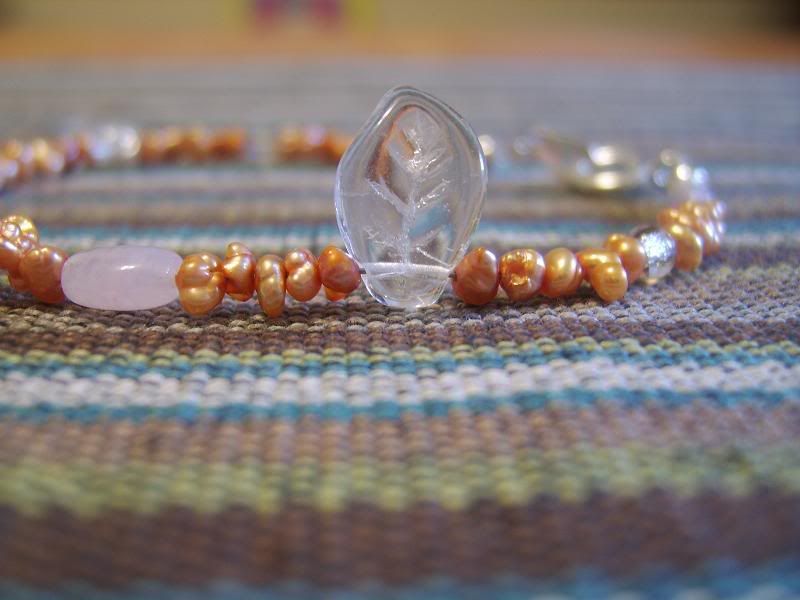 This is another glass bead bracelet with freshwater pearl in between the glass beads. The picture with the leaf bead is the same bracelet. The biger orange bead is in the middle and then there are two leaf beads on either side. This measures just under 8 inches around and I would like $10PPD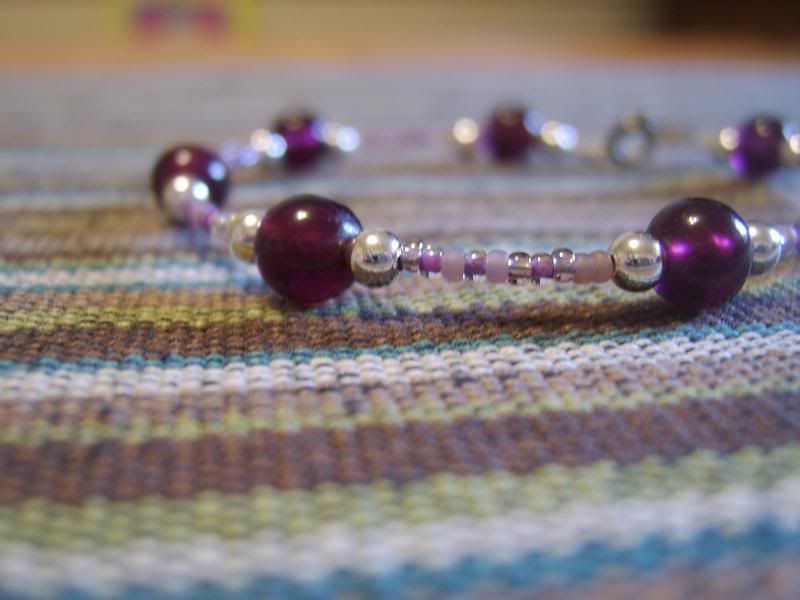 this is a glass bead and semi precious stone bracelet. The girl at the bead store told me (this was in a semi precious grab bag) that this was a dark amethyst. It's dark purple, but I am not sure if it is that stone in particular. But I do know it is a precious stone. I would like $10PPD
this is a glass bead, rosewood and turqious necklace that measures 17 inches long. I would like $18PPD for it.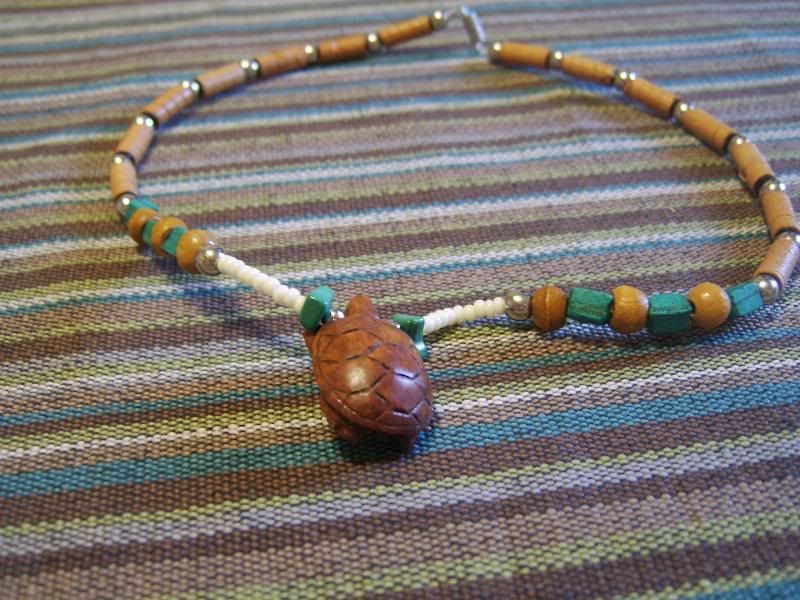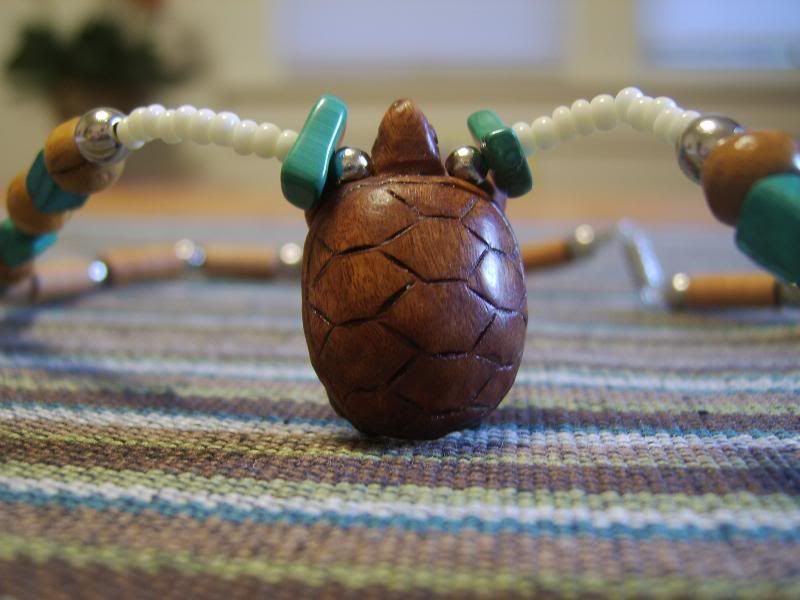 This is a necklaced made by my boyfriend. He likes the more hippier stuff! This is a wooden turtle with white beads, wooden beads and malachite chips. We would like 18PPD.
SOLD!!!
All my prices are subject to haggle! If you order more than 2 things I would love to work something out with you. At this time I can not accept trades as I need some moola!
Thanks for looking and happy shopping!
I have had computer problems all day so the stocking is a day late. But never fear there are some goodies on here!


If you want to see what I have I am on AIM and can send stuff that way mymommaaintnoho

I promise there is an update today.
I'm trying to upload my stocking today(there is a good sized stocking) but my computer is taking a huge big poop on me. I can't load anything on photobucket so I have to figure out what is wrong and then fix it.
Tonight I am going to start my tuesday stockings. I have a few things to stock tonight and 2 custom slots.
Here are the goods
waist 14 at rest 20 stretched
rise is 19 inc
hips are 18-22inches
thigh is 12
$20PPD
I haven't done anything with the legs yet, so you can either leave them or add ruffles or ribbing or a rolled cuff
waist 12-16
rise 15inches
hips 15-18inc
this is a newborn diaper and I am asking $15PPD. The wool is handdyed by me. Add the cuffs on the legs that you want. I Can do ribbing, ruffles or a rolled cuff
waist 14-20
rise 17
hips 18-22
inseam 4.5
This yarn was handyed by me. It looks like watercolours and is almost my favorite dye job i have done. I did an eyelet band with picot bind off on these. Here is a close up of the edging.
These are $30 PPD
My ship first class with DC within 5 days of payment. I accept all forms of paypal, but unfortunatly I do not accept e checks or MO.
I am also stocking 2 customs from my instock yarn. If you would like a custom order I will show you pictures of the yarn I have in stock. I am awaiting a shipment of peacefleece to.
Hello, all!
Just a few things. May 1st I am going to do a mini stocking of some instock things I have been working on. I was supposed to have A LOT more but the rota virus decided to visit my house and well, knitting while your wee one is vomiting everywhere isn't easy to do.
So I have decided that I am going to just stock about once a week with a few things and then just offer up a few customer orders here and there. With me working part time I don't have as much time to open up tons of custom orders, although I would LOVE to. Also, with summer coming around, I am going to be doing instock shorties and soakers. I will only do longies by customer order as the weather really doesn't permit longies for most families. But I have a few ideas for garments to make.
How do you gals thing about little rompers? Like overalls but with lacy edges and frills for the girls and stripes and cables for boys? I am tryin to get a pattern going and I will probably have the legs snap for easy diaper changes. What do you ladies think? They would be a bit more expensive than say a pair of shorties, but we could use the cascade 220 or some other kind of economical type yarn. Or we can totally gorge and buy some malabrigo or something lovely!
I do have two questions for you ladies though.
cerise_blue
did you still want those shorties? If you want I can hold them until May 1st and if you decide to not get them I can just list them.
And
fairmaiden76
I tried doing the waistband in a double stranded cascade and it's just not working. The waistband is ended up to bulky and its not matching the peacefleece. I definatly won't get a soaker out of the peacefleece in Zoe's size, so we have a few different options. I can show you pics of the yarn in my stash and you can have your pic out of there, OR we can wait until I get my peacefleece in and you can have first dibs on colour? Worst come to worst, if you are really set on that yarn I can always see if someone who ordered it in the co op would like to trade a colour with me or sell me a skein. Or I could possibley order it through peacefleece, but it's way more expensive to order through there. We'll work something out.
Hello again!
jello
, I just switched personal journals.
I have closed the store down for now because I am going to open up with instock items and maybe a custom order or two May 1st. It shall be a whole big schabang!
But, I do have two things that I need to sell. These woolies are lush!!!!!!
First off is a pair of shorties
Waist= 16-22in
rise= 18.5in
inseam= 4in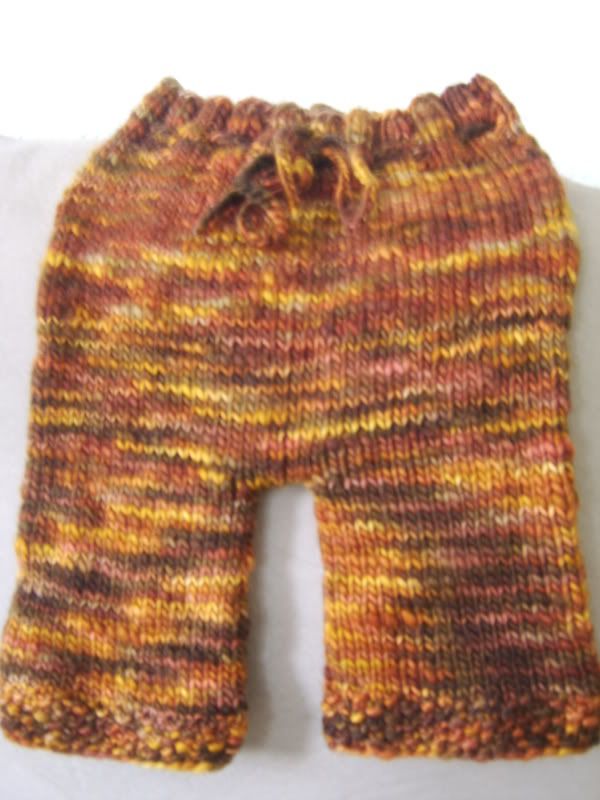 close up of colour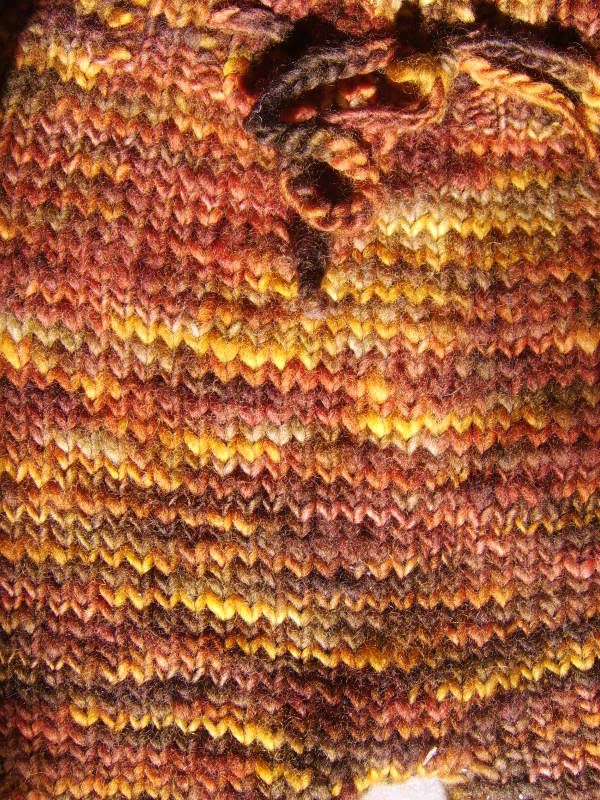 These are mande of of handspun, handpainted wool from uruguay. It is also kettle dyed handpainted wool. The yarn is spun thick and thin. Yummy shorties. These have been washed and lanolized, just waiting for some baby butt to get in it. This is a gorgeous autumn colourway, so warm and soft. $35PPD
And here are the longies. The measurements are the same but the inseam is 10in. These are made of out handpainted, handspun merino wool. this wool is not cheap quality(and neither are the shorties wool)and will stand up to wear and tear. The colours in this yarn are gorgeous. brown, green and cream. The ends just need to be weaved in when I took this picture. The only thing is that these are not lanolized yet. $55 PPD.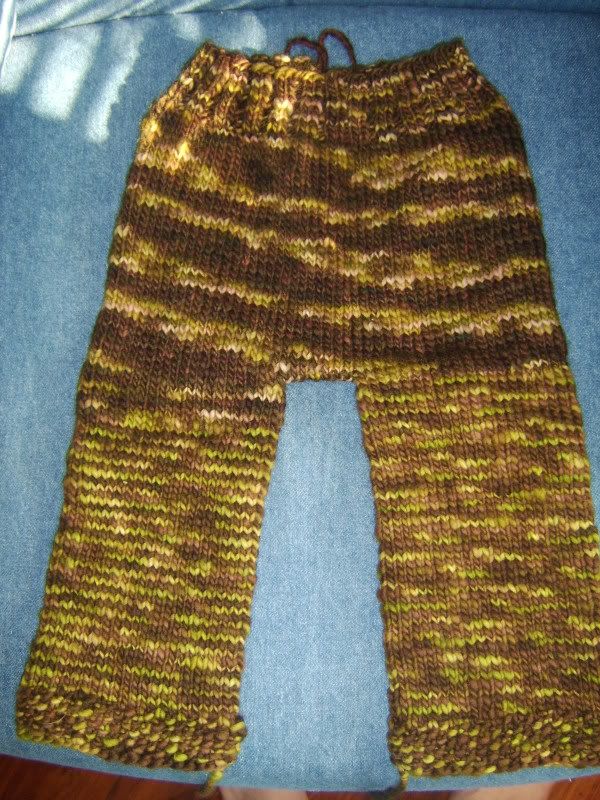 Someone put a deserving fluffy butt in these!!!!
Hi, this is




As of right now, I am completely closed for customs. Normally I can be talked into doing osmething quick, but I can't this time.


I am closing my shop up right now in order to open it up May 1st with an instock store. I will hopefully be opening up a hyena cart, if not I will do my sales through here. I will be stocking soakers, shorties and longies. Also, I will be doing little sets for newborns (hats soaker and possibley socks).


Thank you for all your support and business. i hope I can keep making stuff for your children and hopefully I will branch out to adult stuff to.

Take care

Kristen
ThisHoKnits
Hi ladies!
lovestohateme
your longies are done, washed and dryed. I will send them out tomorrow, you owe me the remainding $15. paypal is thishoknits@gmail.com
cassandrakfreaq
your shorties are done. They just need to be washed and dryed, which I will be doing tomorrow. I am going to make your longies now and then your order will be done. I think I am going to have to pick up a contrasting colour to do the waist band and the cuffs so that I can make longies. If you don't want me to, I can make those shorties too. Up to you. If you want longies I will need an extra $5 to cover the extra wool I will have to buy. The shorties are $25 paypal is thishoknits@gmail.com
I am working on
summerbluerain
longies and then
anxietytopia
order.