I just wanted to post that I am having a stocking on my hyenacart tomorrows. I teamed up with Melissa at Family Pendragon (her yarn my needles)and have some lovely woolies up for sale!
ThisChickKnits
There is a feedback rebate sale going on. If you buy something, leave feedback you recieve 10%off your next purchase.
This is Chipmunk Hollow
A custom Leo colourway inspired by my daughter, Madeleine.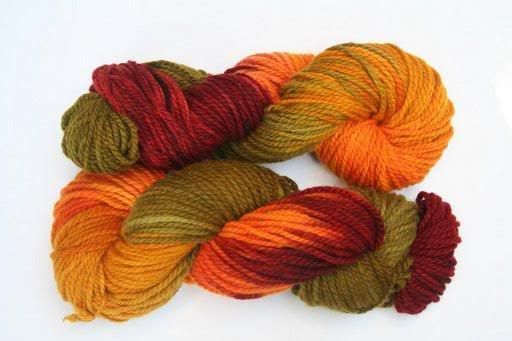 I will be stocking at 6pm sharp! Be there or be square.
Hi Ladies.
Please come by and see my stuff and my boyfriends cart is also stocking
ThisChickKnits
And my boyfriends jewelry cart is
PeacebyPiece
If you buy from any of them, and you are coming from livejournal please put the discount code FREESHIPPING when checking out to get free shipping.
My hyena cart is stocking in two hours!
I just wanted to remind you ladies that my boyfriends hyena cart is stocking.
Well, things have been going great at hyena. I have started selling the stuff I stock (although there is a super cute girly newborn longies set still up for grabs. Any one who buys it here gets free shipping!) pretty fast and I am enjoying it.
I did my round of testers and am finishing them up. Once I get those done, I will be working on some halloween soakers. Once I get one done, I will show you guys a sneak peek. I swear, it's pretty sweet. Also, my store is getting an overhaul. I had a friend help me out when I first set it up and although it looks super cute, I think the background is too busy and someone else gave me the sweetest idea for a logo that I am going to stick with. So in the next few weeks it will be getting an overhaul. Come by and check out my store!
ThisChickKnits on Hyena
Oh! And if any of you have bought from me on here, would you mind leaving me feedback on my hyena thread?
ThisChickKnits Feedback
Also, I wanted to let you all know about this. My boyfriend, Andres, has his own hyena! Yea there are men on there to. Since most of the jewelry I was making was him helping me, at my *nudging* he has his own cart
Peace by Piece on Hyena
His first stocking will be on Thursday at noon. He has some really cool pieces, so please come and check him out.
Thanks so much!
Kristen
I have been off in the world of hyena and completely forgot about this!



But I wanted to ask for my loyal customers to do me a favor.


Could you please write a review of my product here so I can have a feedback post?

Thanks!@
I just had a wonderful day stocking my cart. I sold out of almost all my testers. WOOT!
http://hyenacart.com/ThisChickKnits/
Please come and check out my stocking! I have stocked tester slots and some instock. All my instock has free shipping.
Remember if you refer 2 people, you can get a free gift!


To help boost my sales, anyone that refers 2 people that buy anything off of my cart will recieve a free gift. Please have your buddy put your lj name in the paypal comments and after they purchase I will contact you to get your present out to you. This offer is good until 7/31/07. The gift is my choosing, but I promise, it won't be a silly little gift. I will announce the names of my referers here and please email me at thishoknits@gmail.com so we can chat!


Today I am working on my hyenacart and will be uploading some custom spots and some tester spots. I will be testing shorties/longies and wool lap mats this go around. If you score a tester spot, once you receive the garment I would like for you to fill out my e-comment cart. I will email you a little questionnaire and would love honest(please be brutally honest to if you have to be) opinions and suggestions. Testers are non refundable, and will only be exchanged if there is a flaw on my part. Please make sure that your measurements are correct, and that you specify the gender, unless the colour doesn't matter to you.


I am working on a few perks for my customers. I was thinking about a "frequent wooler" policy. Like if you buy a certain amount of times you are eligible to recieve either a free gift or a discount on your next purchase. I am working on my user profile right now to put prices, shipping policies and general info.

Please comment here or email me with any questions. I will update again when I have my cart all sorted out.

www.hyenacart.com/ThisChickKnits

Thanks!

Kristen
Because everyone loves free stuff!
http://hyenacart.com/ThisChickKnits/
I had to change my name because it wasn't family friendly, but its alright.
I stocked today, so please check me out. And people from here get free shipping. Just put ljfreeship in the paypal comments!
Thanks so much
I got a hyenacart!!!
WWWWWWOOOOOOOOOOOOOHOOo!!
Thank you to the fabulous
cerise_blue
for helping out and offering. I heart her more than anything else!
http://hyenacart.com/modmamaoriginals/
Please take a look, buy and tell me what you think.
I am SO excited ladies, I was fortunate enough to get in a congo on hyena and open up a store!!!!!!!!!!!!!!